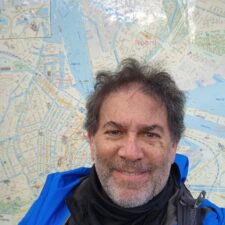 David Eichler
Senior Advisor/Founder
David co-founded Decibel Blue in 2005, serving as Creative Director for the full-service digital, public relations and marketing agency. Decibel Blue's clients include many nationally-esteemed brands such as Dunkin' Brands, Procter & Gamble and Elements Massage. Since its inception, the agency has been honored with the Phoenix Chamber of Commerce's prestigious IMPACT Award as well as being selected as a two-time finalist for the ASU Entrepreneurship School's Spirit of Enterprise Award. In addition to taking home numerous MarCom and Copper Anvil Awards, Decibel Blue's creative work was recognized as a finalist for the national OBIE Outdoor Advertising Award. In 2014, PR Daily named Decibel Blue as the nation's top integrated communications agency with its ACE Award. A watershed year indeed, this was also when Decibel Blue expanded to Denver, opening its downtown office.
AZ Business magazine has recognized David three times as one of Arizona's "Top Business Leaders" and in 2017, he completed the Downtown Denver Leadership Program. Active in both the Denver and Phoenix community, David has been on the Endowment Board for ASU's Walter Cronkite School of Journalism and Mass Communication for over a decade. Passionate about reducing the stigma associated with mental illness, he also serves on the Board of Project Helping, in addition to being published in Thrive Global on the topic. He is an inductee of the Phoenix Business Journal's "40 under 40," and has served as a long-time judge. His perspective has been featured in Forbes.com, MSNBC.com, E! Online, US Weekly, PRWeek.com, the Denver Business Journal and the Phoenix Business Journal. He regularly speaks on, or moderates, industry panels as well as pens guest columns for Dun & Bradstreet's AllBusiness.com, O'Dwyers and PR News.
David proudly calls himself a "mutt," thanks to a career that has included a wide spectrum of roles and industries. After graduating from Wesleyan University (CT), David began an 11-year-tour-of-duty in Hollywood developing screenplays and overseeing the production and marketing of feature films for Warner Bros., Disney, Paramount and 20th Century Fox, including "Rapid Fire", "Free Willy 2", "Broken Arrow", and "Murder at 1600." Ready for a new adventure, David enlisted for the dot-com revolution in 2000, first joining a startup venture in Palo Alto as V.P. of Content, and then as the Director of Brand Marketing for an e-learning software company servicing Fortune 100 clients. After moving to Phoenix, he tackled marketing and public relations assignments in the arts, retail and tourism sectors before opening Decibel Blue.
When he isn't growing his photography business, Eichler Photos, he may be collecting speeding tickets or being taken on walks by his two Havanese dogs. David and his wife, Diane, like to travel, attend concerts and travel some more.